ChatGPT is in the limelight for the last few months due to its unbelievable power and easy accessibility. Open.ai went so far in AI development and after scraping codes for a very long, they developed a tool that has revolutionized a lot of fields including digital media, computer development, academia, and every other field which includes content generation. Open.ai mainly worked in this genre where you provide the topic and your basic requirement and it will generate the best content for you within seconds.
Basic Definition of "ChatGPT":
A chatbot based on deep learning and machine learning methods trained by programmers and computer scientists using billions of data sets to talk to people in the most natural, primitive, and intuitive way just like a human being but way advanced from humans in terms of knowledge. In short, it is an Artificial Intelligence-based cutting edge Chatbot.
ChatGPT is constructed on a very basic idea that "it must respond in the most human style, not too novice nor too advanced than humans". Proceeding towards this basic idea a model or language was designed which was called GPT (Generative Pre-Trained) and this was designed in 2018 by Open.ai. Back in the day, when this was initiated nobody thought that we would be able to construct whole paragraphs and long listicle passages with just one word in most human language.
Open AI
Open.ai got successful in 2018 when the GPT model successfully generated a sequence of word after word using the billion of the dataset. These billions of data sets allow the GPT to learn, think and generate responses like humans. The co-founder when discovered that they can generate a sequence of words using this model or language, worked on this model for the next 3 years and make it more advanced. In November 2022, they launched ChatGPT which not only generates a sequence of words. It can generate a sequence of paragraphs, it can explain any academic lecture to you, it can code for you, it can brainstorm ideas for you, and it can do creative writing for you.
AI is Far More Dangerous Than Nukes
The co-founder of the release of ChatGPT said that this is not the final version, it will be updated with time and there are a lot more, it will perform in the future, and we cannot even predict how far we can go with this artificial intelligence. And, he also said that people think that AI is dangerous for humans and will overcome the human race so this is the dumb thinking of people, no one can beat the creator of it. Humans have created it and it can never cross our intelligence of ours and can never overcome us. It is just a matter of speed and we can control its speed.
Elon Musk and Chat GPT
Elon Musk, who was also a part of constructing ChatGPT but later on parted ways from other co-founders of it. He once said that AI is the only thing that can prove as the biggest existential threat to the Human race.
Tknack's First Interaction with ChatGPT
According to the news it is supposed to be a non-profit program which means there will be no charges to use this model. When it was launched, you didn't even have to log in with your emails. But now there is an upgrade in the usage of ChatGPT.
You just need to sign up using an id and password and you will see a front page with a chat box at bottom of the page. Enter your question or anything you want to ask. It will generate a response within seconds.
Chat GPT and Social Media
When we got to know about it as we were watching thousands of posts about it on social media, every other person was talking and sharing posts about ChatGPT.
Before exploring it indirectly through others' experiences, we thought if people are saying that it can talk like humans so why shouldn't we directly ask ChatGPT itself who is it, why is it developed, what abilities it has, and what is its ultimate power?
Thus, we made a list of dozens of questions like these.
If you want to know how was our first interaction with ChatGPT, following are the screenshots attached. If you are thinking that why we did this, it is so because the developers of ChatGPT claim that ChatGPT can talk like humans so we just wanted to discover its actual power. That's why we decided to try it on our own and ask all those questions which we wanted to search for manually but ended up asking ChatGPT itself.
It did a good job and we all were really amused by the answers and admired it as well.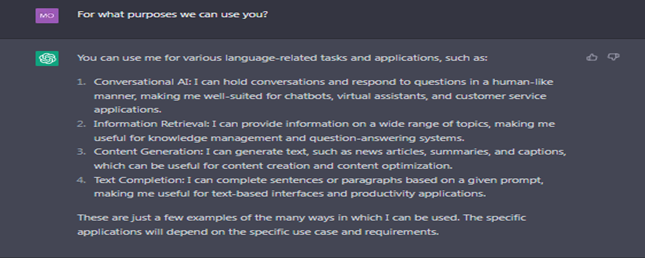 ChatGPT can replace humans from their Jobs, True or False?
We mentioned previously in the interview with ChatGPT about such functions which it can perform well. As we are the an Advertising firm and we interviewed ChatGPT as a Digital marketing agency.
Rumors are already revolving around in the market that AI is a very strong tool and can do the jobs which humans can with greater efficiency but that's not true. We asked ChatGPT what it knows about and Advertising firms. So, it said that ChatGPT is a very advanced model and can help the human side by side to perform different functions involved in a digital marketing agency. Specifically, if we go into the details of some functions which ChatGPT can help us with.
How Chat GPT can help a Digital Marketing Agency
As a language model, ChatGPT can assist a digital marketing agency in a variety of tasks, including:
Content creation:
ChatGPT can help generate engaging and informative blog posts, social media posts, email newsletters, and other types of content. A lot of writers reading this might be thinking that if ChatGPT can write quality articles and blogs then they would get replaced by this model and they will lose their jobs. Don't worry about this. Your jobs are secured and there is no need to panic. It can only assist you with content creation but it can't fill the content with feelings and emotions which are the basic requirements of content. This issue is explained in the next section briefly, why ChatGPT cannot replace a human writer.
Keyword research:
ChatGPT can assist in finding keywords and phrases related to a particular topic or industry, which can be used in digital marketing campaigns to improve search engine rankings. There are a lot of tools that can perform the same task but as it is an AI model it is more efficient and can work precisely. The developers said that they have built this bot with billions of datasets so using these billions of data sets can provide you with keywords for the specific target audience. That's why it is better than other keyword generators.
Chatbots:
ChatGPT can be integrated into chatbots to provide conversational experiences for website visitors, which can help to improve customer engagement and support. We discovered this feature when we interacted with ChatGPT for the first time. The way it carries the conversation you cannot say if you are talking to a human or a Bot. As, we already have used other bots and so as you, you should also compare the functioning of this ChatBot with the other bots you have been using previously. You will feel the difference.
Ad copywriting:
ChatGPT can generate attention-grabbing and effective ad copy for use in pay-per-click (PPC) campaigns, social media ads, and other types of digital advertising. Ad copywriting is a task performed to generate maximum sales and the copy written must connect with the prospects which only humans can do. This Bot can help you with some ideas, some vocabulary, and proofreading. So, again we are mentioning here that there is no need to worry about losing your job.
Reporting and analysis:
ChatGPT can assist in generating reports and analyzing data to help a digital marketing agency track the success of its campaigns and identify areas for improvement. The tasks which involve some quantitative material or quantitative methods, ChatGPT is at the top of it.
Overall, ChatGPT can help to streamline and automate various tasks within a digital marketing agency, freeing up time and resources for more creative and strategic work.
ChatGPT can write the articles and can replace the article writer:
This concept is wrong and an AI tool can never replace the content writer or article/blog writer. They have their worth and if people or agencies are thinking that they can use this tool to write their daily articles and blogs and they will not have to pay the salaries to the writers. We want a such person to wake up from dreams and face the reality and understand the real situation.
There are two main reasons why ChatGPT or any other AI-based tool can never replace an article writer in any firm:
The AI tool does not have emotions or feelings and that's why it can never add such emotions in words which is the first requirement to write a blog or article. The blog or article must connect with the target audience and that connection is formed when the words of the article are submerged in emotions. This function is performed by the writer and an AI tool can never do this.
Can Chat GPT  write Articles?
It can write an informative article and can provide you with a listicle article in which quantitative information is required. And, you will be surprised to know that when we asked ChatGPT the same question whether you can do the jobs people do in the Digital marketing agency and can you write an article that can reach the level of an article written by a human writer. So, check out its answer, you will be shocked.
And then we asked whether it can write a better article than a human writer. So, it replied in the same way that I can write a quality article but cannot fill it with emotions. You can check out the screenshot below.
2.  Secondly, why it cannot replace humans from their jobs, is because there is another tool waiting out here that acts as a checkpoint for every type of content being made and published. And, we know that tool as "GOOGLE". And, google mentioned in the latest core updates in which google released some new policies that google will only help those who want to help people and those who can provide such content which is beneficial for the users and not for their businesses and their self. So, even if you can make ChatGPT write a good article you will not be able to cross the next checkpoint and it will not be beneficial to you in any way.
This was our first interaction with ChatGPT and we believe it is a great tool and can be helpful if we use it in the right way because it can perform functions very precisely.
Tknack's Conclusive Verdict on ChatGPT:
We have researched a lot about ChatGPT and we also had several questions about it and we found the answers after using it by ourselves and we listened to the founder and co-founders of it, and what they say about it.
We believe that ChatGPT is one of the strongest Bot up till now because the datasets are very accurate and it is very quick. Even though it is still in progress and it's the middle version of it and they will improve it. Currently, it is helpful for students to solve problems, learn about any topic, and way more.
Does Chat GPT have any Sentiments
As an AI language model, ChatGPT does not have opinions or personal sentiments. It is designed to respond to user inputs in a helpful and informative manner, based on the text it has been trained on.
Overall, ChatGPT has proven to be a valuable tool for generating text, providing information, and assisting with various tasks, making it a valuable resource for individuals, businesses, and organizations.