Are you a B2B business owner? Are you tired of low revenue and sales this year? Do you want to promote your B2B business and generate leads? Then, look no further than social media! In today's age, the benefits of social media for marketing B2B businesses are insane. Millions of active users can bring you more potential conversions than ever.
Social media platforms offer a powerful way to build brand identity, increase awareness, reach new potential customers, and grow your sales. Here you will get proven B2B social media marketing examples, secret hacks, and strategies.
So, don't stop and read till the last to see how you can leverage online platforms to grow your company.
Why is Social Media Important for B2B Businesses?
The role of Social media in marketing B2B businesses is critical these days. It provides a platform for building strong relationships with customers and brand identity. You cannot stay competitive in these times if you ignore the power of social media. Moreover, you can also use it for cost-effective paid marketing. It will help to draw the attention of your target audience and generate more leads.
You may like this: Step by Step guide for social media marketing
How B2B social media marketing differ from B2C?
B2C (business-to-consumer) and B2B (business-to-business) social media marketing have some key differences:
B2C social media marketing targets individual consumers.
B2B social media marketing is all about targeting other businesses.
The content strategy different in both cases. It should address the needs and pain points of the targeted one.
B2B marketing involves long-term relationships with the clients.
Relations in B2C marketing are more transactional focused.
The buying process also affects the marketing strategies of B2B and B2C businesses.
B2B marketing content tends to be more educational and informative than B2C content.
B2B businesses often create content that provides thought leadership and addresses industry trends.
B2C content is often more focused on lifestyle marketing.
Here is the List of key Benefits of social media for marketing B2B businesses
Social media can help you find new customers
One of the key benefits of social media for marketing B2B is its reach. It can connect you with new customers if you show up daily and post informative and valuable content. You can increase your visibility among potential customers and generate more sales. You can also connect with industrial experts using social media. It may lead to new partnerships and collaborations for your growth.
You can drive traffic to your website
B2B Social media marketing can drive high traffic to your website. Here are some gateways social media can open for your B2B brand:
You can engage your audience and encourage them to visit your website if they want to know more about it. You can use B2B social media trends, catchy visuals, and infographics to draw their attention.
Partnering with social media influencers with a high following can bring massive traffic to your website. Influencers have engaged followings, and promoting your brand can expand your reach.
Paid social media Ads are another way to drive traffic to your website.
A more personalized customer experience
Customer engagement is one of the most important benefits of social media marketing. Social media provides a channel for B2B business owners to engage with customers. You can address all the concerns, answer questions and give a more personalized customer experience. In today's era, personalized messaging is crucial for successful business ventures. It is what social media brings to the table for you.
Cost-effectiveness – One of the prime benefits of social media for marketing B2B
Social media is an affordable marketing option for your B2B business venture. But, create catchy content and crack social media algorithms first. It will produce jaw-dropping results for your sales and ROI sooner or later.
Even the cost of paid advertising on social media is pretty low. Compared to traditional marketing, social media turns out to be a hero. Platforms like Twitter, Reddit, LinkedIn, and Facebook allow you to create targeted ads. So, you can reach a specific audience with different demographics, interests, and behaviors. Showing the right product to the right people will bring you more conversions. Social media can help you retarget the most relevant audience.
You may also like: The right level of Marketing Investment
Credibility and Authenticity are what Social Media can build for you
Another key benefit of social media for marketing B2B businesses is building trust among your audience. Here are some tips and tricks to get the most out of this benefit:
You can show the process of creating your products or services.
You can share any funny moment of the office to give a more personalized experience to your audience.
You can respond to customer inquiries and complaints and get the maximum benefits of social media for marketing b2b.
You can use influencers to use and comment on your product.
Analyze the reviews and recommendations and address the concerns. It shows that you care and want to provide quality products or services.
You may also like: 7 ways Blogger outreach can improve your business
Understand the needs and desires of your audience
Social media help you to understand the burning desires of your audience. Their response to your social media marketing campaign can give you an idea about their liking and disliking. It helps you to build stronger relationships with them. Moreover, it also tells you what they are interested in buying.
By creating content relevant to your audience, you can establish yourself as a trusted source. Comments and reviews can help you to provide a better customer experience. It will help you to build a community loyal to your B2B brand.
5 Best Practices to get the maximum benefits of Social Media for Marketing B2B
Create a Viable B2B Social Media Marketing Strategy
Social media marketing for B2B businesses is all about planning. Developing a perfect strategy that can help you compete with the very best is the most critical part. You will need it to have a clear idea of your objectives and implementation standards. So, be certain about your goals and budget before getting started. You may also go one step ahead of your competition by taking the help of B2B social media marketing experts.
Use the potential of reels and videos for B2B social media marketing
It is a fact that reels and videos get more attention on social media, these days. According to studies, video Ads rather than images are more likely to get you a conversion. The good news is that investing in video marketing is not expensive. You can record short videos or reels on your phone and post them on social media. Making videos for your website is another use for video marketing.
Although video marketing may seem like a lot of work, it's a terrific method to distinguish your company from the competition and attract more customers.
Post Regularly to attract more eyeballs
You are not doing yourself or your potential customers any favors if your social media handles are inactive for weeks. Your efforts can go in vain if you are not posting. It may result in a disinterested audience, or individuals may abandon ship and unfollow your brand.
Establish a timetable that works for your workflow and stick to it. You might upload your work from the previous week on Sunday mornings. Moreover, you might post new content three days a week. It only needs to be consistent. No one is saying it should be a big project.
To manage several social media channels, you can use management software or get the services of social media managers. It is critical to post regularly to get healthy benefits of social media for marketing B2B Businesses.
Make full use of Peak hours in your social media
You can use peak hours to get the most benefits of social media for marketing B2B. The timing of your posts is crucial to your success on social media. Optimal times to post content on social media are when the target audience is online.
The best time to post your content is between noon and three o'clock or six o' clock till nine o' clock. The best day for posting is Friday. Although Instagram users are active every day of the week, you might draw more attention on Mondays. Facebook posts perform best on Wednesday through Sunday from noon till four o'clock. Of course, it could change in the future!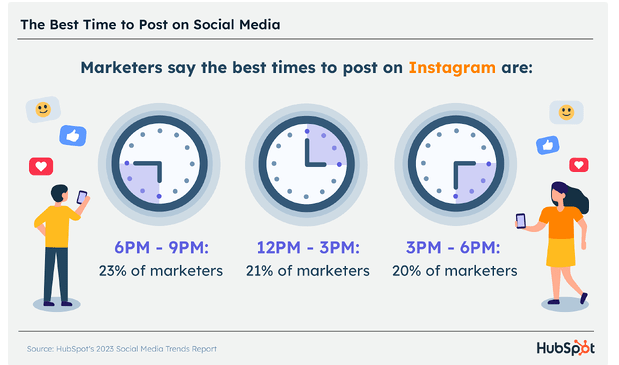 Make your social media platforms visually appealing
Social media audiences look for visuals every time they log in. It may sound surprising, but videos receive 53% more likes, 104% more comments, and 84% more link clicks.
If you want a successful B2B social media marketing campaign, visuals that attract your audience are the key. You can make stunning social media graphics using many free tools or hire somebody to do it for you.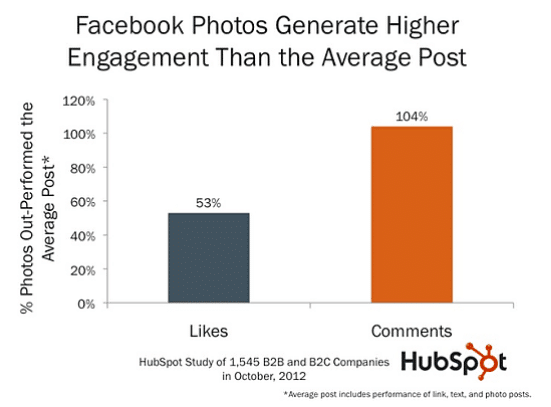 B2B Social media marketing examples
Here are some prime examples of using social media for marketing B2B businesses.
Mailchimp – A prime example of B2B Social media marketing
Mailchimp is an automated email marketing platform. Mailchimp illustrates a great example of social media usage for showcasing brand image. Mailchimp's social media channels contain entertaining content. It includes short videos, GIFs, memes, and user-generated content. That's why Mailchimp can connect with its target audience and has a loyal community. This is how you can get healthy benefits of social media for marketing B2B.
You may also like: Types of Social Media Content
Cisco – A social media strategy that connects
Cisco is a leading communication and networking solution provider. It is a great example of social media usage to connect with your customers. Cisco's social media platforms contain engaging content. It includes customer success stories, product demonstrations, and leadership articles.
Adobe – Best B2B social media marketing example for visuals
Adobe is well known for its high-quality tools and services. This multinational software company also uses social media to showcase its products and services. Adobe's social media channels feature stunning content. It includes case studies, videos, and infographics, demonstrating the company's capabilities. Visual content is something that can get you the most benefits of social media for marketing B2B businesses like Adobe.
Frequently Asked Questions
Q. How much does social media marketing make?
A. Social media marketing can make you a lot of bucks. The only thing you should focus on is the strategy. Compared to traditional marketing channels, the ROI in social media marketing is high.
Q. Why is social media an important part of inbound marketing?
A. Social media is a part of inbound marketing as it helps businesses attract, engage, and entertain their audience. The results are more leads and sales.
Q. How has social media impacted marketing for small businesses?
A. The benefits of social media for marketing B2B are not limited to well-established businesses. Startups and small businesses can also use social media to increase visibility and reach new customers.
Final thoughts
In a nutshell, social media has become an essential tool for B2B business owners and marketers. The benefits of social media for marketing B2B business are huge. It can improve their marketing strategies and help them to achieve their goals. By focusing on the right platforms and sharing content that connects, B2B businesses can skyrocket their growth.
So, what are you waiting for? It is time to take advantage of the benefits of social media for marketing B2B businesses. Don't know where to start? Get in touch if you are ready to go one step ahead.
Thanks for Reading!